Grooming
Grooming services are available to the public. To maintain the health and safety of our patients and staff, all pets that present to Lisbon Veterinary Clinic for grooming must be have proof of current health screening and vaccinations including:
Required Vaccines For Dogs:

Required Vaccines For Cats:

Da2PLP (DHLPP) vaccination

Rabies vaccination

Bordetella vaccination (kennel cough)

FVRCP+C (DRCC) vaccination
Rabies vaccination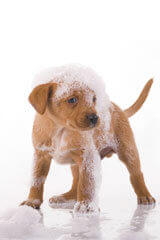 Routine grooming services include*:
Bathing
Hair cut/clipping to your specifications
Toe nail trim
Ear cleaning
Brushing with a deshedding tool (Furminator)
Anal sac expression (Dogs)
*Medicated shampoos, flea treatments, and other services are available for an additional charge. Please discuss any specific requests or concerns with Debbie at the time of your scheduled appointment.